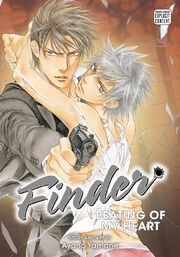 Welcome to the Finder Wiki!
[
]
This wiki is about the Finder Series (ファインダーシリーズ), a yaoi manga written and illustrated by Yamane Ayano. The Finder Series wiki is in the process of being built. If you would like to contribute, then please help edit the character pages.
What is the Finder Series?
[
]
The Finder Series is the story of Takaba Akihito and Asami Ryuichi, and their love affair through dilemmas they encounter. Takaba is a young photographer who exposes the criminal underworld of Japan through his pictures. He happens to take photographs of the business dealings of major underworld figure Asami Ryuichi. Takaba is confronted by Asami, but escapes from the grasp of the crime lord. Asami is attracted to Takaba's defiant personality, and he has the boy kidnapped.
From then on, the complicated relationship between a headstrong photographer and a crime lord begins.